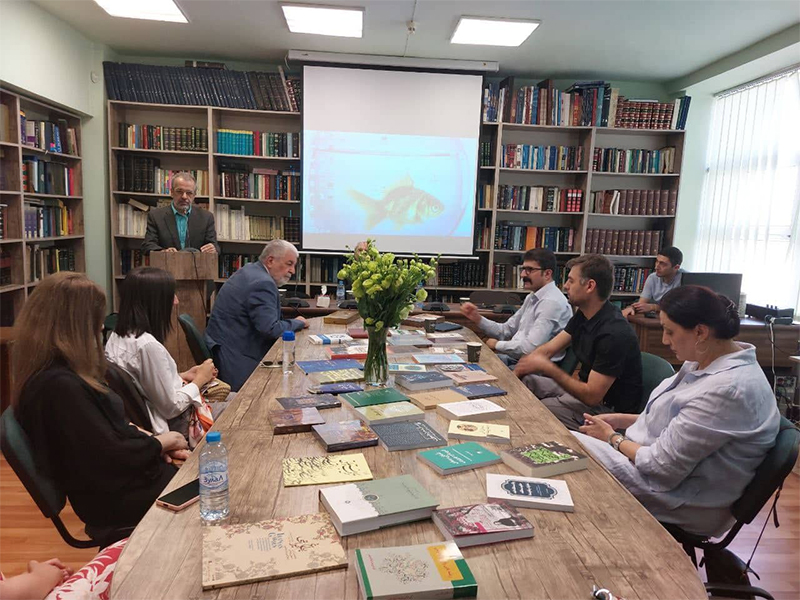 Ambassador Abbas Badakhshan Zohouri: "I am extremely happy to be here during the very first days of the new academic year and I wish a successful year to all the professors and students."
Ambassador Extraordinary and Plenipotentiary of Iran to Armenia Abbas Badakhshan Zohouri visited the Russian-Armenian University on September 5.

"I am happy to be with you today. I am grateful to the director of RAU Institute of Oriental Studies Garnik Asatryan, the academic staff and all those responsible for organizing this event. I am extremely happy to be here during the very first days of the new academic year and I wish a successful year to all the professors and students", - noted Abbas Badakhshan Zohouri.

In the words of the ambassador, knowledge helps to prevent the distortion of history and reality, which is why familiarity with the heritage of Abu Rayhan Muhammad ibn Ahmad al-Biruni is extremely relevant, and the Iranian side is thankful to RAU for the organization of the event in honor of this great medieval scientist-encyclopedist. "Al-Biruni is a well-known polymath, a real encyclopedist who spoke many languages and was familiar with many cultures. In modern-day Iran Biruni is taught in primary school textbooks through history, the main message being that one should always strive for knowledge, seek knowledge from cradle to death. This message means that great scientists consider knowledge and science a most important component of life and development for humanity. Opposed to that is ignorance. The light of science and knowledge allows one to make the right decisions."

In his turn, professor Asatryan noted that today is Biruni's Heritage Day on which occasion the esteemed ambassador honored RAU not only visiting it but also presenting a great collection of professional and educational literature: "We are grateful to the Ambassador, and I should note that we are trying to work in such areas of Oriental and Iranian studies which have not received special attention elsewhere in the world."

Head of the Cultural Representation of Iran in Armenia Mr. Tabatabai is also convinced that young researchers should be familiar with Biruni's legacy: "Professor Asatryan and esteemed Mr. Ambassador presented Biruni's role in the world from a scientific standpoint. Not less important is his role in culture. What is more, he presented his contemporary science based on experience, the empirical component. Many of his conclusions were drawn by European scientists only centuries later. But, most importantly, he adopted an unbiased approach to historical topics. His works in the field of Indology are also significant. He could conduct studies independent of the religious factor. Simply compare Biruni's studies with the works of his contemporaries who judged all phenomena based on their own views and faith! Biruni is a figure whose legacy is part of global culture."

During the meeting Victoria Arakelova, an expert on Iranian studies, highlighted that today there is a tendency to turn to the East, to the knowledge of the East through the lens of decolonization: "This is, however, wonderful and self-sufficient knowledge that should be considered on its own."

It should be noted that it was a great pleasure and joy for young experts on Iranian studies to become acquainted with the donated books.